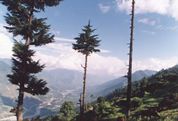 The historic town Kullu is situated at a distance of 6 km from Bhuntar airport towards Manali. The town serves as district headquarter and all the administrative offices are situated in the vicinity of Dushehra ground. There are nice camping areas, historical temples, picnic spots around Kullu and much more to bestow on its visitors.
Medical and police services are readily available. You can avail of the best accommodation and telecommunication facilities.
Camping Site
Camping site (1433m) is situated to the north of Kullu, at a distance of 16 km from the Kullu town providing a welcome stay to the trekkers & tourists. The site provides a nice locale for campfires on the riverbank with huts for a comfortable stay.
Bijli Mahadev

Bijli Mahadev (2460m) is a sacred destination, situated to the south- east of Kullu, at a distance of 14km by road till Chansari and 3km on foot from Chansari village. It is a beautiful meadow with an ancient temple. It gives an enthralling & panoramic view of the Kullu and Manikaran valleys and is extremely popular among the local populace.
Raghunath Temple
The temple is situated at Sultanpur at a distance of 1 km uphill Kullu bus stand. This historic temple is dedicated to Lord Raghunath, the chief deity of Kullu. The temple is patronized by the Royal Family
of Kullu and their residence, the Rupi Palace is also situated in the vicinity of the temple. Deity Raghunathji plays the key role in the world famous festival of Kullu Dusshera
. During Dussehra all the deities of Kullu Valley visit the temple to pay homage to Lord Raghunathji.
Vishweshwar Temple, Bajaura

The temple is located to the south- east of Kullu, at a distance of 14km from Kullu town. This ancient temple was built in the 8th century and has exquisite stone carvings.
Kaisdhar
Situated at a distance of 8km from Kullu, Kaisdhar is an ideal picnic spot. It is situated amidst spectacular and serene surroundings encased with towering Deodar trees.
Vaishno Devi Temple
A 2km ride from the main town Kullu takes you to the temple of Vaishno Devi. There is a cave inside the temple where an idol of Lord Shiva is installed.