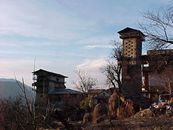 Banjar Valley is situated to the south- east of Kullu Valley. The valley is home to several beautiful temples of gods and goddesses, which are a great tourist attraction, both for the Indian as well as foreign tourists.
Primary health services and police assistance is easily available. Accommodation and telecommunication services are easily accessible.
Banjar
Banjar (1254m) is situated in the middle of the Valley, at a distance of 52km from Kullu. Banjar is famous for trout fishing
in river Tirthan.
Sojha
Sojha (2683m) is situated to the south of the Valley and at a distance of 65km from Kullu. It provides a captivating view of the entire Banjar Valley, and at night, lights of Simla town can be seen from here, which is an enthralling view.
Bahu
Bahu is 75km from Kullu. Bahu has several temples of Yoginies, who are considered as helpers of Goddess Durga.
Shringa Rishi Temple
This temple is situated at a distance of 13km from Banjar. The temple is built in Pagoda cum Pahari style, having four roofs and elaborate woodwork.