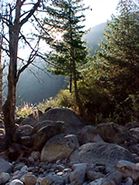 Sainj Valley is situated to the south- east of Kullu and at a distance of 23km from Kullu. Sainj is a narrow valley but beautiful in its own way.
Sainj has all the basic facilities like school, bank, hospital, post office, telephone exchange, etc.
Great Himalayan National Park
Great Himalayan National Park is situated at a distance of 60km from Kullu. Most of the park area is situated above 4000ft. The sanctuary protects 300 species of birds and 30 species of mammals.
Deori
Deori is at a distance of 4km from Sainj. There is a beautiful temple of goddess Ambika and a lake of weeds in the village.
Manu Maharaj Temple, Shenshar
This temple is situated to the north- east of Sainj. It is built in pagoda style and is about 1200 years old. The elaborate woodcarvings on it are perhaps the best in the valley.
Shangarh
Shangarh (7000ft) is a lovely village surrounded by deodar trees and green meadows. There is a forest rest house for accommodation.