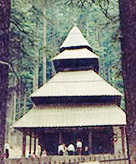 Manali (2050m) is situated to the north of Kullu Valley, 40km from Kullu town. Manali is known worldwide for its scenic beauty and adventure sports
activities like sking, paragliding, mountaineering, and trekking etc. There are number of places around Manali which are worth visiting for their great cultural value and peaceful scenic beauty. There are very old temples in Manali famous all over for their great religious and architectural worth.
Manali town provides the best health services in the valley. Telecommunication services and accommodation facilities are easily accessible.
Hadimba Temple
This temple, also known as Dhoongri Temple is situated about 1 km from Manali. This temple was built by Raja Bahadur Singh in 1553 AD in pagoda style having four roofs rising one above the other. The temple is dedicated to Hadimba- the wife of Bhima. Bhima is one of the Pandava brothers who visited this place during their exile.
Manu Rishi Temple

Manu Rishi temple, 3 km from Manali, is a beautiful structure with a five- storey pagoda type of roof and a brass 'Kalasa' crowning the top. The temple is dedicated to sage Manu from whom human race is believed to have started. This land was known as 'Land of Manu' and was later renamed Manali after him.
Rohtang Pass
51km to the north of Manali takes you to highest point on the National Highway, Rohtang Pass (3980m) or the house of the dead, as it is known. It offers you a spectacular view of Kullu valley and the unvanquished high mountains of Lahaul Valley.
Kothi


Kothi (2530m) is a beautiful village situated to the north of Manali town and at a distance of 15km from Manali. Brooks gushing down from the mountains pass through the village and there you stand infatuated by the astonishing vistas.
Solang Valley
Solang valley (2480m) is situated 13km to the north-west of Manali. The slopes of Solang are considered one of the best in the world for skiing; State & National level winter sports are organized here.
Bhrigu Lake
Situated to the north-east of Manali at a distance of 6km from Vashishtha village, Bhrigu Lake (4270m) has been named after sage Bhrigu. There is a beautiful wild flower meadow called Gulaba near the lake.
Beas Rishi Lake
Beas Rishi Lake (3690m) is situated to the north-west of Manali and at a distance of 25km from Manali. The lake is very deep and transparent. The lake is mostly half covered by glaciers. The weather here is unpredictable and the best suitable period to visit is June to October.
Vashishtha Natural Hotwater Springs
Vashishtha village, 3km from Manali, is known for the hot water springs & the asceticism of Rishi Vashishtha. The temple of Vashishtha Rishi is 400 years old. In the temple there is a stone statue of the sage Vashishtha clad in dhoti, cap & a white shawl on the shoulder. The Tourism Department has built Turkish baths, 500 m away from the village.