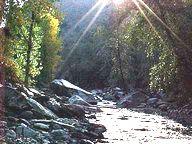 Lag Valley is located to the north- west of Kullu. The valley conceals several virgin tourist spots, which are yet to be explored. The valley though narrow, is fascinating. The entire valley is encased by lofty mountains and plenteous deodar forests. The valley can be visited between April- June and September- November.
The valley grants primary health services, accommodation and telecommunication services are readily available.
Bhaliyani
This village is situated at a distance of 17km from Kullu. The way to the village is motorable upto 10- 11km and the rest is on foot. The village has a temple of Lord Krishna that is built in pahari style. There is a 200-year-old oak tree, which adds to the beauty of the village.
Mathasar
A zigzag way from Bhaliyani takes you to Mathasar. The village has a temple of Yoginies built in pahari style. The village presents a stunning sight and the visitors feel enthralled by the scenic beauty offered here.
Barhasar
Barhasar is situated 6km to the east of Mathasar. There is a place called Langthach near Barhasar, which has slopes ideally suitable for skiing.