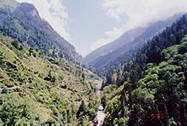 Manikaran town is situated in Parbati Valley at a distance of 45km from Kullu. The beautiful Parbati Valley is situated to the north- east of Kullu.
Manikaran is famous for hot water springs that cure rheumatic pains. Manikaran is renowned for Gurudwara and Ram temple that bestows free lodging and food.
Primary health services and police assistance is easily available. Accommodation and telecommunication services are also readily available.
Hot Water Springs


Manikaran is famous for its hot water springs gushing out from below the rocks. Temperature of water varies from 88°C to 94°C. Presence of radium is one of the main reasons given by a German scientist behind the hot water springs. Rice can be cooked in twenty minutes in the hottest of springs.
Shri Narayan Hari Gurudwara
50 years old, this Gurudwara is famous for its hot water springs. At present there is accommodation facility for 4000 people with lungar.
Ram Temple


This temple belonging to 15th century was built by Raja Jagat Singh in pyramidal style. The idol of Raghunathji, which is kept in the Raghunath temple of Kullu was brought from the Ram Temple in 1661 A.D.
The temple provides lodging facilities to the visitors at nominal price. They also provide with lungar (free communal food).
Jari
Jari (1624m) is situated to the east of Kullu Valley, 34km from Kullu town. River Parvati and Malana stream merge here and then flow. The tall deodar trees surrounding the village amidst the high mountains present a fabulous picture.
Malana


Malana
village (2652m) is situated to the north- east of Kullu Valley. It is considered to be the oldest Republic State in the world. The people of Malana have their own culture, customs, language and administration which is firmly based on their village diety 'Jamloo'.
Kheer Ganga
Kheer Ganga
(2960m) is situated to the east of Kullu, at a distance of 15km from Manikaran, which is a difficult tread through the forest. Kheer Ganga has a hot water spring. White sulphur particles can be seen sticking at the bottom on both sides of the spring or floating like milk cream here and there.
Mantalai
This lake (4116m) is situated to the east of Kullu Valley. River Parvati rises from here. From one end of the 1km long lake, desert area of Spiti starts.