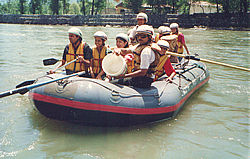 Do I need any experience before joining a rafting trip?
As long as you don't mind paddling and have no objections to wet clothes you're a suitable candidate for a white water trip.
Requirements are moderate physical fitness and some affinity to water.
More challenging rivers like the Zanskar river in Ladakh or the Satluj near Rampur in Himachal Pradesh require that you already have a sound experience in rafting or kayaking.
Will I get wet?
Definitely. Yes.
What clothes are recommended for rafting?
Synthetic clothes will generally keep you more comfortable than cotton. Nylon shorts, a bathing suit top etc. are good choices; soft-soled shoes will help you to keep firmly on ground. Wear sunglasses with a strap, and a hat. Bring sun cream with you as well as a set of spare clothes. Don't wear jewelry or metallic chains which might cause a risk to the boat or your fellow participants.
What if it's raining?

Rafting is not very sensitive to moderate rain (ok, one has to get the additional water out of the boat). You will get wet in any case.
Can I take pictures?
Check beforehand that your camera is waterproof, otherwise you might take some "wacky" photographs.
What's the best season for a rafting trip in Kullu Valley?
During May and June it's more fun because the water level is high and river rafting is safer.