Himachal Pradesh is making itself quickly a name in the field of River Rafting or White Water rafting. In Kullu valley this thrilling sport can be enjoyed downstream on the Beas river from Pirdi to Jhiri on a track of about 16 km in length.

Grading of Rapids
| | | |
| --- | --- | --- |
| Grade | Difficulty | Description |
| I | Easy | No obstacles, Small waves |
| II | Moderate | Clear passages |
| III | Difficult | Narrow passages requiring precise maneuvering, High irregular waves |
| IV | Very difficult | Very precise maneuvering required, Powerful waves |
Season
End of April to June and mid-September to mid-October. Depending on the water situation there may be a break during the monsoon in summer.
A Trip on the Beas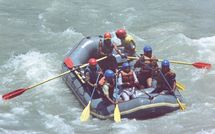 River Beas offers excellent Grade II and Grade III rapids ensuring a safe and yet thrilling experience. A rafting trip usually starts with the introduction to equipment, safety measures, do's and dont's and commands given by the guide.
After "boarding" the raft the adrenaline level of the participants usually sharply raises and desperate commands of "hard forward" and "backward" can be heard. The raft hits Grade II near the confluence of Parvati and Beas river, sending the boat in an uncontrollable state for some moments with waves lashing on the thrilled participants.
Safety
Minimum age is usually 14; good physical fitness is required; Life jackets and helmets are provided by the tour operator.
Insurance
Make sure that you are insured. Most organisations decline liability in case of any mishap or accident.