I N T R O D U C T I O N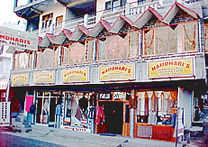 Welcome to the world of Kullu shawls, renowned all over the world for its traditional patterns, vibrant colors and good quality. These traditional patterns are generally forms of flora and fauna depict the artiste's love for nature. The colors, traditionally bright portray the aborigines' zest for life.
A name renowned for quality Kullu Shawls, Namdhari Kullu Shawls is famous for its good quality, original work & have made earnest efforts to maintain the traditional crafts of the valley in step with the modern drift.
Namdhari Shawls exports its products to America, Hampshire, London, Russia, Paris, Norway and Japan. The main reason behind the popularity is our truthfulness to the customers and the quality products endowed on them at the most reasonable rates.