Introduction:

Zing Zing Bar & Restaurant is centrally located in the main market of Model Town, Manali, amidst hotels and shops. Idyllic for the triumphant to celebrate their victory, the chivalrous staff of Zing Zing Bar hands out distinguished brands of drinks in the midst of an impressive interior. Zing Zing Bar swears an invigorating experience.


Facilities:


The spacious bar serves up distinct brands of liquor-Indian Whisky, Wine, Rum, Gin, Cocktails, Scotch, Beer along Chinese and Indian food.
The Zing Zing Bar runs a fun park named 'Water Fun World' near luxury bus stand, Manali. It' s a nice place to spend evenings amidst the innocent laughter of your kids. And when you are hungry we have really appetizing preparations ready for you at our restaurant the fun park.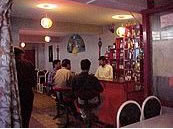 Seating:

The roomy hall of Zing Zing Bar offers a lot of seating space. Drinks can also be enjoyed on the rooftop. Live through the energizing experience at the Zing Zing Bar, a just the right place for partying.
Contact Info



Mr. Shiv Ram.
Manager

Mr. Ranbir Thakur
Managing Partner
Tel: +91-1902- 52589.