Welcomes You to the Valley of Gods
"Love and Let Live"
"Be Veg, Serve Veg"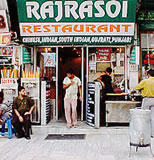 Located at Mall Road
Service with Smile
Fresh Hygienic Food
Packing Facility
Neat & Clean
Driven to Full Customer Satisfaction Policy
Member of Hotels & Restaurants Union
Step in for sumptuous Indian, Punjabi, South Indian, Gujarati, Chinese and Jain cuisine. We serve Punjabi and Gujarati thali.
Eating is fun at Raj Rasoi. The chef's fast food appeals to the most foodie. Enjoy Pizzas, Burgers, 2 in 1 and 3 in 1 American Softy, Chocodip, snacks and many more delightful recipes.
We are located at:
Mall Road, Manali
District Kullu (H.P.) 175131
Tel: 251855, 252992

Pure Vegetarian