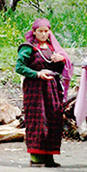 Pattu is the traditional dress of the local women. This woolen fabric is woven in different colors and designs. It is thicker and heavier than shawl and the colors used are fast and bright.
Women wear pattu over their clothes. They pin both ends of it with local silver broaches called 'bumni', joined with a long ornamental chain. It covers the whole body. A piece of cloth called gachchi (belt) is tied around the waist. Basically women of Kullu use pattu as their daily wear. The cost of a pattu depends upon the design, color combination and quality of wool.
Initially the people of Kullu used to weave tweed, locally known as Patti
, Womenfolk used this tweed as pattu, which was thicker, heavier and coarser than the present pattu. The pattus prevalent today came into being in 1940's, when the weavers from Busheher (Shimla) came to Kullu Valley. These weavers greatly influenced the designs, color combinations and the raw materials used by the local weavers.
Technical Specifications of Pattu
Yarn used
Warp - 2/ 44's, 2/ 48's Woolen Worsted
Weft - 2/ 44's, 2/ 48's, and 2/ 32's.
Patterning - 2/ 32's Woolen Worsted / Acrylic 2-3 ply.
Size - 1.40Mt. x 2.80Mt. & 1.50Mt. x 3Mt.
Weave - 2/ 2 twill, diamond twill (base) and weft rib (patterning).
Weight - 650gms to 800gms approximately.
The Patterns on Pattus
| | |
| --- | --- |
| Pattern | Description |
| Plain | The entire pattu is covered with chhiyan (vertical and horizontal lines) and both ends have a red - colored border called dhari. |
| Chitra | This type of pattu has black & white color combination with red colored border at both ends. |
| Daba | This type of pattu has black & white combination with one traditional pattern on both ends. |
| Ek Phulwala | This pattu has different color combinations and one traditional pattern on both sides. |
| Teen Phulwala | This type of pattu has different color combinations and three traditional patterns i.e. phool on both sides. |
Price
A plain pattu woven of acrylic yarn costs about Rs. 200, whereas an acrylic pattu having three traditional patterns is priced around Rs. 1200. Upper range of a pattu varies according to quality of wool and patterns on the pattu.