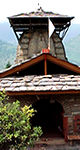 Naggar, the old capital of Kullu is splendid in nature and preserves within itself the noble spiritual values and the rich cultural heritage, which Kullu upheld in the past. It contains quite a lot of temples of gods and goddesses who have built ultimate faith in the people.
Murlidhar Temple, Thawa is built in shikhara style and is 3 km far from Naggar village. It belongs to early medieval period. The temple is dedicated to Lord Krishna and has the idols of Radha, Garuda and Laxminarayana. The Dussehra festival is also held here for one day.
Tripura Sundri Temple is a massive wooden structure having three storeys. The top most storey of this pagoda type of temple has a canopy with a kalasa (pinnacle) at the top, crowned by a chhatra. The architecture of the temple resembles that of Hadimba Devi Temple
at Manali.
Jagati Patt is a slab of size 5' x 8' x 6" which is kept in a small temple in the Naggar Castle
premises. The legend behind it is that the deities of the world decided to make Naggar the celestial seat. Then they changed themselves into bees and cut a slab from Drag Dhank of Bhrigu Tung peak while others believe it has been cut from Deo Tibba (the highest peak in Kullu). Even now local deities assemble here for protecting the people from any calamity whenever the need arises.
Once you reach Naggar these temples are easily reachable by road, except Murlidhar temple Thawa which is a 15 minute walk.