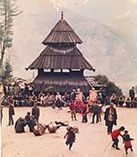 Sharhi Jatra is a very famous fair of Kullu Valley. The fair is held for three days and takes place in Naggar in front of the ancient Tripura Sundri temple during Jaishtha month (second half of May and first half of June).
This fair has received its name from a place called Sharhi, where it is held. During the fair, natti (folk dance) is performed. Sports competitions are also conducted in the fair. Sports men from various parts of Kullu take part in these competitions.
There is massive gathering during the fair and the spectacle of the gods is worth seeing. There are stalls dealing in sweets, garments, cosmetics and articles of everyday use.