Basant Panchmi is celebrated with great vehemence in various temples
of Kullu. At Naggar, it is celebrated in Krishna Temple
which is at a distance of 1km from Naggar Castle
.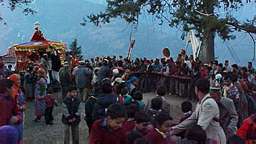 People of the nearby villages assemble in the temple complex and participate in the pooja ceremony. The idols of Saligram, Hanumana and Garuda are carried in a palanquin up to a chariot adorned with colorful clothes and flowers. Thereafter, the chariot procession is held around the temple complex.
The festival is celebrated to call to mind 'Bharat Milaap' (the meeting of Lord Rama and his younger brother Bharata). The priests play the role of Rama and Bharata.
In the epic Ramayana, Rama was exiled for a period of fourteen years. When exile ended and Rama returned to Ayodhya, Bharata handed over the crown to him. For those fourteen years, he had been worshipping Rama's 'khadaun' (wooden soled sandals) by placing them on his throne. People of Ayodhya celebrated the day with great pomp and show. They showered color on each other.
The same act is carried out at the temple complex. One of the main attractions of the festival is Hanumana (a character in Epic Ramayana, monkey chief who was Lord Rama's ally in his invasion over Lanka). The role of Hanumana is also performed by a person whose whole body is smeared with saffron color and he puts on a conical cap and a tail. He performs the traditional activities and accepts the religious offerings made by the people. As the chariot procession comes to an end, he plays around with the people gathered and smears them with color.
The children are the most amused as they are chased all around the temple complex. The festival concludes by the end of the day. Bharat Milaap symbolizes the love and reverence that the youngers' have for their elders. Such noble Indian ethics have kept the joint family system alive and strengthened the bonds of family.