by D.S. Thakur
Professor of Agricultural Economics
Regional Research Station, Bajaura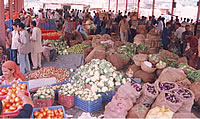 Ecological and hi-tech agriculture for long-run sustainable farming and 'Ever Green Revolution' requires Broad Based Agricultural Extension Systems (BBAES) in order to successfully implement all the above ten points. The BBAES consists of the initial rapport making with the farm families and villagers and to know their problems and requirements, to use the same as an entry point.
This is to be followed by training, transfer of technology, human resource development, youth farmers and women farmer-specific technologies and agricultural infrastructure planning and development by using different extension methods to completely change the attitude of farmers through increased knowledge and skills for higher production, income, standard of living and sustainable farming by implementing the 12 point strategy as outlined and given in this paper.